Happy October! Fall is the time for hot drinks, chunky sweaters, soups, stews (thank God comfort food is back!), and HALLOWEEN MOVIES!
Yes. Halloween movies! I know some people have been getting ready pretty much since September 1, but I like to start in October. It's like concentrating on spooky movies for a limited amount of time, making it all the more special.
So without further ado, here are my five picks for Halloween movies, in descending order.
5. The Nightmare Before Christmas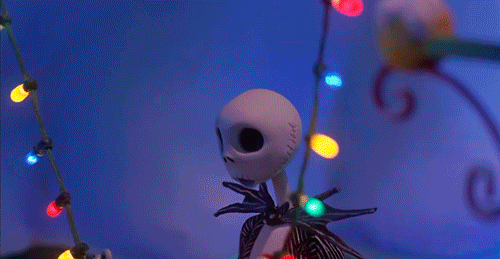 When this movie came out I remember my sister and I begged our parents to let us see it. It was NOT what we were expecting (I don't think it was what anyone was expecting), and we didn't watch it again for years. I don't think my sister likes this movie at all, but it continues to intrigue me.
What skeeves me out about this movie is Oogie Boogie, though. That entire sequence just gives me the willies, which, honestly, is something to look for and appreciate in a Halloween movie.
And absolutely you can watch this at Christmas, too!


4. Practical Magic
The
trailer
to
Practical Magic
makes it look like a cutesy romantic comedy, but it is NOT that (BAD trailer editor!). This movie is actually a lot darker than that (though it does have it's funny, fluffy, romantic moments).
I'm a sucker for movies about sisters (have I blabbed about how awesome my own sis is lately? She's the bee's knees!), and this one is no different.
Sally and Jillian Owens are witches, descended from a line of witches doomed for their true loves to die horrible deaths. Sally vows as a child never to fall in love and casts a spell that one specific man will be her true love (she doesn't know who he is, she just gives him really specific traits like one green eye and one blue, he can flip pancakes, has a good heart, and his favorite shape is a star). She makes it so outrageous that he won't actually exist. Jillian is just the opposite. She falls in love almost daily and runs away with a boyfriend, sending postcards to Sally and their matronly aunts. When Jillian calls Sally in distress, Sally rushes to help her and they find themselves involved in a murder investigation that leads Sally to her destiny.
Starring Sandra Bullock and Nicole Kidman as the sisters, and Aiden Quinn, Stockard Channing, and Dianne Wiest, this movie is the Halloween chick flick to end all Chick Flicks.
3. Young Frankenstein
Put ze candle Beck!
Oh, Mel Brooks. Where would we be without his wit and charm? And this wonderful monster movie?
When I was in high school we read
Frankenstein
and as a reward for making it through our teacher let us watch
Young Frankenstein
. This movie is so funny! It's the story of Victor Frankenstein's great great grandson, Frederick, trying to live down his kooky ancestor's antics, but while on a trip to Transylvania, he discovers the scientific principles that led Victor to reanimate life. Along the way are memorable characters and gags that would continue into all of
Mel Brooks' films
.
I frequently quote this movie (apparently I inherited that from my parents. They used to quote it to each other all the time!), and it was one of the movies we watched last year when Gene Wilder passed away.


2. Hocus Pocus
Would you believe that I don't actually own
Hocus Pocus
?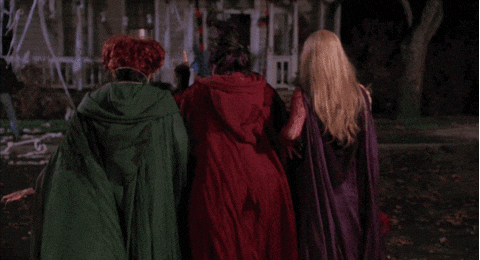 Also, this movie scared the bejeesus out of me as a child (I was eight when it came out). The idea of witches sucking the life force out of children struck a nerve.
I got over it by the time I got to college, and actually watched it with friends one rainy afternoon. A few years later two friends and I dressed up as the Sanderson sisters for Halloween (I was Mary). When I took an Insta-pic of my Halloween movies last week the general consensus was outrage that I didn't own this movie. So when I get paid, I'll be popping down to
Target
for it.
This movie has everything Halloween: Witches, Zombies, Black Cats (we LOVE black cats!), and shenanigans. Lots and LOTS of shenanigans! If you've never seen it, check it out. You won't regret it!


1. Carrie
I never considered myself a Stephen King fan until I saw
Carrie.
I don't know what it is about this movie, but I absolutely LOVE it. I love the story (I read the book last year), I love the acting, the drama. I actually own the 1976 version, the 1999 sequel, and the made for TV remake that they tried to turn into a TV series. I don't own the newest version, but I have seen it.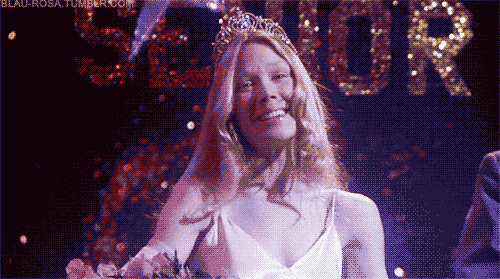 The first time I saw this was on the night of my sister's prom back in 2002. I was sixteen and watched it with my best friend. It was a fun night. I've seen it several times since then, and it's really fun to see the who's gone on in their careers.
I'm trying to convince my family to watch it with me this year. My mom suggested that we do a movie night with PMS food (the story starts with Carrie getting her period, and all hell breaks loose from there).
Also, fun fact:
Apparently Piper Laurie, who plays Carrie's mother, thought the movie was a comedy and will argue that fact to this day. That's why she played it so over the top. Same with Nancy Allen and John Travolta. Nancy thought they were such bickering morons that they were the comic relief. Film editing can make or break a movie.
When I was in college, I took a film class, and this was one of the first movies we watched. I'd seen it, but no one else had, so it was funny watching all of the reactions to everyone during the Prom scene, and what followed.
Your Turn!
What movies do you recommend for Halloween viewing?
What is your absolute favorite Halloween movie?
Do you dress up for Halloween or hide in your house? I prefer to hunker down and pray for daylight, myself.
Post Contains Affiliate Links